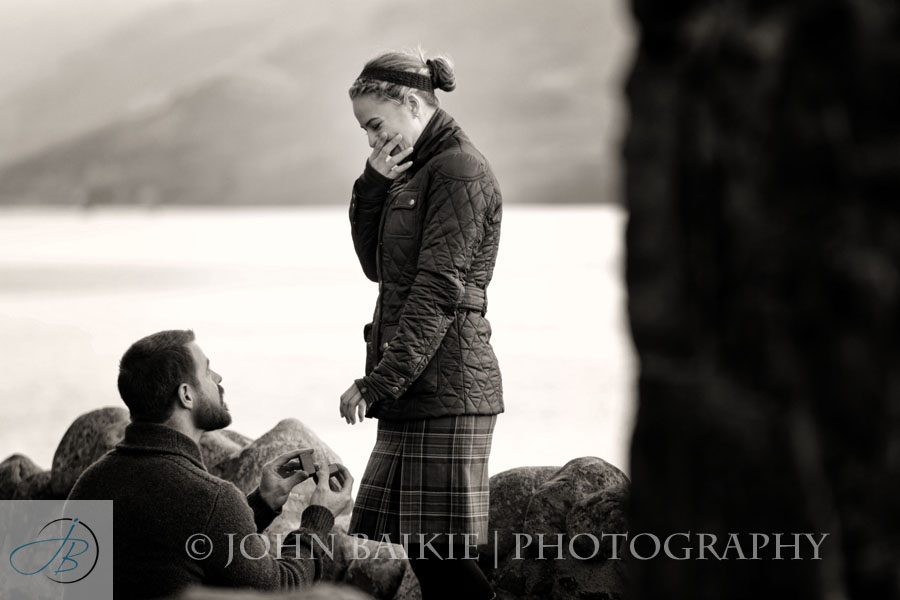 Yesterday I had the privilege of being part of another special occasion in a couple's lives. Eric had planned to propose to his girlfriend Lindsay on their trip to Scotland from New jersey this month, and found me online. After a few email exchanges we sorted out all the details and put a plan in place.  Eilean Donan Castle on the West Coast of the Scottish Highlands was the chosen venue, and a great choice as I feel it is one of the most romantic and magical location in the country as well as being a very iconic Scottish image.  Having done one of these before I was aware of the difficulty of both capturing the moment, but also not being seen and giving the game away. weddings are high pressure, but the difference is you know exactly where things are happening, and have some element of control over positioning, lighting and other factors.  This type of thing is slightly spontaneous and the guy proposing, despite having a plan, will just decide when the moment is 'right'. i have n o idea what way they will be facing, what exposure I need on my cameras, or where I should be to capture it unobtrusively. Add to this the fact that Eric wanted to wait till the tourists had dwindled away before popping the question, this was never going to be easy!
I started the day at Achnagairn House at a wedding fair, before heading off at lunchtime for the normally 90 minute journey. What I hadn't factored in was the bad weather overnight causing havoc on the roads. I was pumped up with adrenaline when I left, and felt quite anxious…however that was to be multiplied pretty quicky as I approached Drumnadrochit to be met with a "road closed" sign, and a flood across the entire road which looked very deep. As I watched a 4×4 slowly negotiate the opposite direction, I realised how deep the water was and thought it was impossible for my car to get through. Then a chap in a car pulled in beside me and asked if I need to get through Drumnadrochit. He said he knew another route and to follow him. Perfect! After ten minutes of negotiating single track roads, and farm tracks, we came to a closed gate with a digger parked against it, clearly to deter others using this route. What now!!??  It was too late to go back and use the other road to get up there, so I decided I had two options….miss the shoot or risk driving through the deep water. There was only one option….. I watched a few vehicles come through – all of which were jeeps and big vehicles – and just went for it, nice and slowly….and made it!  I was now cutting it a bit fine but thought I should be on schedule for arriving at 2.30 as arranged. Eric had decided to be on the last tour of the castle at 3pm, so on I pushed with the journey. After Fort Augustus I was confronted with another big red "Road closed ahead" sign. Aaaaaahhhhhh! A slight outburst of tourettes at this stage, then decided to keep going to see what lay ahead. There had been a landslide and the road was closed. However timing was better this time and they were clearing it, and in the process of setting up traffic lights to allow one lane access. Phew! I was through and on my way.
I arrived at the castle and there was no sign of the couple. I then started panicking in case there was a road closed on their route up from Edinburgh, but I went in and spoke to the ladies in the ticket office. They had been made aware of the situation and I was given a ticket to get me into the castle.
Now I had to get in position and act like a tourist. I had seen photos of the couple and Eric had even told me what they were going to be wearing. i recognised them right away.
we went up into the courtyard, and I now had to try to second guess Eric. a few times I thought "this is it" but he seemed to be waiting for people to leave. Eventually after a whole load of selfies the last of the group wandered up the steps, leaving just me feeling slightly awkward and getting fed up of pretending to take pictures of the same distant hill…. Then they wandered back to the spot they had been in to begin with…. But they had turned around so the light was all wrong and I couldn't get a clear shot of Lindsay's face. I quickly moved across 180 degrees to get the opposite angle. just as it happened! Eric said a few words, dropped to one knee, and it all unfolded as you will see in the photographs below. Lindsay cried, then Eric cried…and yes then I cried too.
What a special job it is when you get to be part of something so special, so emotional, and also so personal to two people. There are times when the job is stressful, and tiresome but moments like this are why I do this job. To see the absolute joy in Lindsay's face as it all unfolded was something which even now as i type this, puts a wee shiver down my back.
Lindsay and Eric – congratulation, enjoy the rest of your trip to Scotland, and from the bottom of my heart, thank you for asking me to be there and be part of this!
Please follow and like us: